Resilience Following Violence: Healing in the Wake of the Orlando Shooting
Machelle Madsen Thompson, June 14, 2016
Sunday, June 12 as we all awoke, the world was forced to confront the most horrific civilian mass shooting that the United States has ever seen. As we desperately attempted to check in with loved ones living in the Orlando area, especially those from the gay and Hispanic population, a sense of disbelief, fear, sorrow, anger, panic, and emptiness surged through us. We wanted to seek out reasons for the senseless act and find ways to help those impacted most by this tragedy. For many who have experienced trauma or violence in the past, these emotions were exacerbated. 
So what now? In order to work towards recovery, we can immerse ourselves and those we love in those protective factors that research shows can help following extremely difficult times.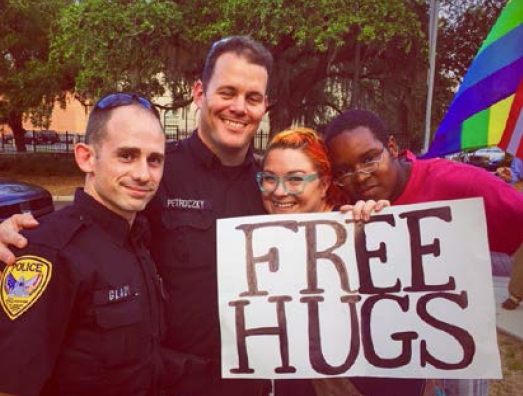 Connect with Those Close to You
Following trauma, the thing that children and adults tell researchers helps them the most is connecting with supportive family and friends. Make time to meet, call, text, email, or join in activities with those you love. Find safe people to talk with about your reflections and feelings without expectations. Be ready to listen without judging. Share your stories of triumph and pain including the entire range of thoughts, emotions, reactions, and goals.
Everyone reacts differently, so be patient with each other. At times, people may need to just be around those they love in relative silence. Some want hugs, others may wish to watch a good movie or sports event with a friend, others may enjoy sharing a meal. Following our local Florida community vigil, some participants slowly exited in silence, others wanted to share their stories, a few waved pride flags, some just wanted to listen, others wanted to scream, a few said they were scared simply wanting to stand close to those they love. Be there for each other.
Engage in Positive Activities
Down time can be difficult following violence and trauma. Those who have been through trauma tell researchers that finding positive active diversions helps to ease the pain. Following losses, some people have told researchers that those activities which take both physical energy and intense concentration help them to "reset" and face the trauma from a different perspective. For one Floridian, this was riding his motocross dirt bike. According to the resilience author and pediatrician Ken Ginsberg, running and other exertion helps to physically relieve the heightened response of the body to emotional stressors. Some individuals enjoy simple comforting tasks such as sewing, home improvement crafts, or woodworking. Artists may find expression through writing, painting, sculpting, or sharing their musical or other performing gifts during difficult times. According to the American Music Therapy Association, listening to music has the capacity to manage stress, lessen pain, and express or change our mood. Listen to both music that expresses your current feelings and music that helps you feel a sense of serenity. Maintain your positive activities even when you feel despair.
Make a Difference
Setting goals and finding even small ways to serve others helps quite a few people following violent trauma. There are no simple solutions, be open to your own creative problem solving. Allow any compassionate ideas across ideological spectrums to flow. Pick one small thing you can actually do to help and set a specific time to do it. For some, it might be giving needed blood or financial contributions, others may want to join advocacy or support groups.
Connect with and strengthen your community. Start with a group in which you feel comfortable in mobilizing change. Positive groups in which you can find support or organize projects can include places such as your local: city commission; neighborhood; school, home-school group, or university; workplace; cultural or ethnic groups, LGBTQA+ community; law enforcement organization; an arts organization or music scene; or a community response organization. Stay involved.
Empowered by Your Beliefs
For those who are part of a spiritual tradition or other supportive personal belief structure it is very important to participate in those activities which bring comfort and peace. For those who need to be alone to spiritually process trauma, create a specific time and place to pray or meditate. Consider including specific groups and individuals directly affected by the violence. For those who are connected with a faith community, attend prayer vigils; interfaith group events; or ceremonies with your faith-based congregation, church, sanctuary, mosque, sangha, or temple. Connect with your Higher Power.
Creating a life motto is another way to connect to your core beliefs, especially if you are not tied to a faith community. Meg Selig, the author of ChangePower! encourages developing a personal mantra that expresses what you value deeply. Think about your source of strength. Ponder on your mantra or life motto to help yourself connect with our world, enhance your relationships, and engage fully in living as the most excellent you possible. In every situation ask yourself: What would the best version of me do right now? Live your personal motto.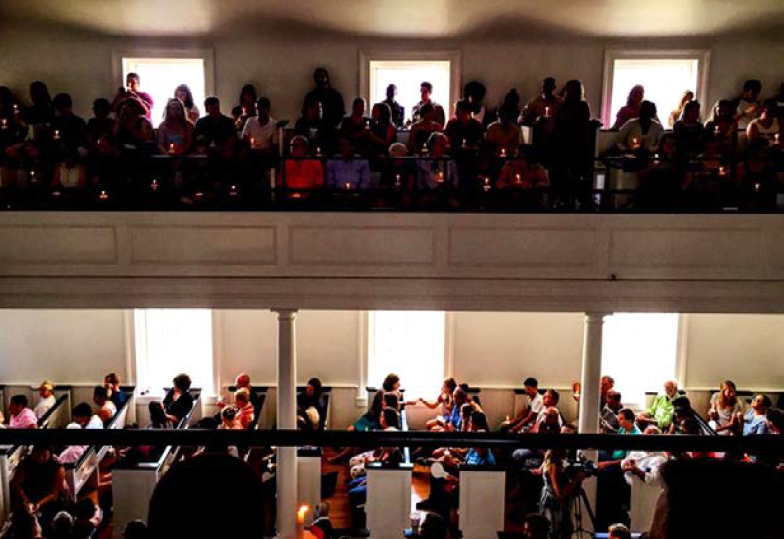 Candlelight Vigil for Victims of Pulse Shootings
Seek Counseling If…
• Fear begins affecting your sleep or restricting your ability to participate in
typical day to day activities.
• Anger turns into verbal or physical aggression, hurting the people around you.
• You begin consistently looking over your shoulder, scare easily over things that
remind you of the trauma, or experience disturbing flashbacks or nightmares.
• The grief turns into depression changing your sleep or eating patterns. Feelings of worthlessness or inability to experience joy set in. If you or someone you love is considering ending their life, help should be sought immediately.
• Any emotions, behaviors, or thoughts are negatively affecting your relationships, ability to function at work or school, or your feelings about yourself.
Resilience in Action
Destiny Tolbert, MSW, who runs a community empowerment ministry in a stressed rural Florida area, told us how her families recently mobilized into action following an officer shooting an unarmed resident with mental illness resulting in the young man's death. A lot of people knew they were angry but, many were also really scared. Grief stricken parents realized that their own children could have been a victim. Families needed to tell their stories "around people who you don't have to explain why you are angry or why you're sad." Once the initial shock, basic safety, and intense emotions were addressed, they needed to act. They organized a meeting inviting key leaders and community citizens. Concerns were expressed about individual, family, and community safety. They didn't want this to happen to anyone else, and began to plan what to do. At the meeting they continued sharing their stories and ideas; formulating plans that were subsequently implemented. The small rural city conducted a smooth, peaceful march with elected officials, faith leaders, the Dream Defenders group, and townspeople. The community leaders, Police, and Sheriff's departments worked together, organized, and conducted training surrounding mental health for first responders and area residents. Despite the tragedy of the loss, the process helped community members to begin healing and make a difference in their future.
The Challenge Today
Rise above the fear, find deep within you that spark of courage. Remember the words of the youngest Nobel Peace Prize winner, Malala Yousafzai who was shot by the Taliban while riding home on a school bus in Pakistan because she was empowering young women to become educated. "They thought that the bullet would silence us. But they failed…weakness, fear, and hopelessness died. Strength, power, and courage was born." Healing through connection, creativity, and compassion takes time and works in a more subtle manner, but in the end, together we are stronger than ignorant acts of hate. In defiance over those who decide to act with hostility, rise resilient.
---
Machelle Madsen Thompson, PhD, LCSW is a researcher on resilience following trauma and an adjunct professor at Florida State University. She is also a counselor specializing in high-risk youths who have experienced trauma.  Dr. Thompson was recently appointed to the AVA's Board of Directors.
---
Resources
American Psychological Association. (2016). Trauma Grief & Resilience. http://www.apa.org/research/action/trauma.aspx

Center Link (2016). Local, State, and National LGBT Organizations and Groups. http://www.lgbtcenters.org/localstatenational-groups.aspx

Ginsberg, K. R. & Jablow, M.M. (2011). Building resilience in children and teens. Giving kidsroots and wings. (2nd ed.). Elk Grove Village, IL: American Academy of Pediatrics.

Madsen Thompson, M. & Klika, B. (2015). Increasing Resilience: Primary Healthcare Providers' Opportunities to Promote Protective Factors Before and After Childhood Trauma. Academy on Violence and Abuse: ACEs Best Practices. Retrieved from http://www.avahealth.org/aces_best_practices/increasing-resilience.html

Music Therapy Association. http://www.musictherapy.org/

Selig, M. (2015, August 21). 9 Reasons you need a personal motto. Psychology Today.
https://www.psychologytoday.com/blog/changepower/201508/9-reasons-you-need-personal-motto

Hunter, C. (2013). Wabi-sabi: The magnificence of imperfection: Cheryl Hunter at TEDxSantaMonica. Retrieved from https://www.youtube.com/watch?v=V1gxziZwmkc

Yousafzai, M. (2013). I am Malala: The girl who stood up for education and was shot by theTaliban. London: Orion Publishing Group.